Ellie's story and character arc matches up perfectly with her hypothetical player's, even without interactive dialogue or story malleability. She would provide her player with an interactive story that is completely pre-determined, yet wholly based around ludonarrative empathy, much like Journey is.
The way she plays would also be refreshing and more cerebral than the way we play Joel.
It almost seems like it was meant to be. Ellie was the first of the duo to be shown when the game debuted at the VGA's. She narrates most of the trailers and commercials. She stands in front of Joel on the game's cover, positioned where the player character usually is on box art. She is even on the front of the steelbook edition, with Joel being relegated to the backside. She also got her own prequel comic, with a more thought-out Quarantine Zone story than Joel and Tess' Robert mission.
Ever since the earliest interviews she has been talked about with depth and excitement. She was presented as the hook of the game. Her description and role made her an interesting character, something new, and someone we wanted to meet. Meanwhile, Joel's description and role always reminded me of my good friend, Mr. Gruffman McDark Past, from the Rated M tribe of Brood County on Planet Safe-Bet.
I heard that.
No offense to Joel, he is an amazing character.
In this walkthrough I will analyze the game, chapter by chapter, from both Ellie's and her player's perspective. I will go into detail on all the story and character moments to explain how and why they work well with Ellie as the player character. I am not rewriting the game or restructuring the story, so I will stick as closely to the actual scenarios as possible, just from another point of view and play style. Some little changes will be proposed here and there, but with their own explanations and justifications.
The only part of the game that would need to be completely changed is Chapter 1, The Quarantine Zone. I don't want to deviate from the actual game in this walkthrough, so

the full QZone section can be read separately over here.

There, you can see a detailed description of what Ellie's chapter 1 could be like, and how it fits with the overall story. It's not totally necessary to read it before reading the main essay, as there is a TL;DR version below.

The "Encounter" section is where we dive deep into

how

the player plays as Ellie. This section is primarily for those who aren't convinced that playing as Ellie can be worthwhile, so if you are one of those people I suggest reading it first. If you're already interested in a playable Ellie, you can skip the section if you want.

The full gameplay analysis can be read here.
There isn't much to say about the prologue, since Ellie isn't in it. Everything can stay how it is, but I will propose one change: Instead of switching to Joel after the truck crashes, we continue playing from Sarah's perspective all the way until she dies. You look around at your surroundings while Joel carries you. It's basically a continuation of the truck sequence. This change will come into play in the hospital scene in a very specific way, but more on that later.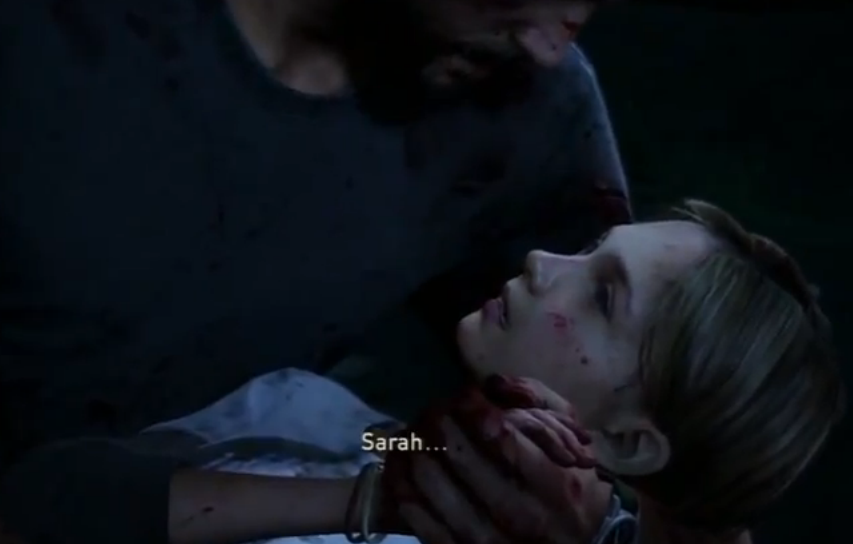 The obvious thematic ties between Sarah and Ellie will pay off better in an Ellie playthrough if Sarah is the "me" character all the way to the end
Ellie and Riley shoot at rats with bb guns.

Ellie and Riley get bitten by a Runner in the mall.

When on their little mission, Ellie is the leader and Riley acts as the "partner".

This way the player gets a subliminal tutorial of what makes a good partner.

This also makes the player empathize with Ellie more when Joel takes away her independence. When she tells him she can handle herself, the player knows it because they actually played as her taking care of herself and her partner.

Once we get to the cutscene where Joel and Ellie meet, the game continues like normal.
Since the start of this chapter, Joel has been following Tess around, and then Marlene. This helps take your attention away from the rigidity of the level design and instead focus it on who you are following. There is a reason for the player to navigate swiftly despite not having been there before. It also helps for pacing. Unfortunately, the dissonance of knowledge is still apparent.
After

escaping the city, Joel is in new territory for the rest of the game. He is finding his path as he goes, just like the player. Both parties are on the same page and have the same mind-set. Unfortunately, the player's tendency to wander makes the linearity much more obvious.
You still can't incite teamwork.
Like Ellie, Sam is invisible and inaudible to enemies.
Sam doesn't react to the infected in any different way considering Henry's absence. He isn't more scared or anything.
Joel's performance or sense of urgency isn't affected by Ellie being in unknown danger.
Sam doesn't seem to worry about Henry.
Sam doesn't act any differently about being alone with Joel, despite the incident on the beach.
You don't want to encourage Duck's involvement in potentially dangerous affairs, especially without his parent's consent.
It's hinted at that Duck may even be the one planting the evidence or creating the "crime scene", because he wants to play Batman and Robin.
He may even be the one who broke the flashlight and is trying to place the blame on someone else.
With high trust, Joel will reciprocate and the two enjoy the moment.
With medium trust, he will seem confused for a second while raising his hand, and Ellie will initiate the clap.
With low trust, he will leave Ellie hanging and say that they have to keep moving.
Getting the high five would make the player like Joel a wee bit more. It's also our last interaction with him before Ellie finds out he wants to leave her with Tommy. This helps up believe Ellie's decision to run away, and puts us in her shoes by giving us a tender moment with Joel before he "betrays" us by leaving.
Getting no high five would foreshadow Joel's unabashed decision to leave Ellie with Tommy right away. It would be as if Joel wants to distance himself from bonding in order to make the separation easier for both of them
The player sees how the people live and how the plant runs while following Maria.

Maria gives Ellie the photo of Sarah.

Ellie defends the plant from the attackers alongside Maria and her pals.
The camera sensitivity can be raised to make the player feel the heightened alertness that Ellie has as she scans the environment for bandits.

Ellie's movement can also be faster, and more exaggerated. Her idle changes, and fast-walks when she moves. When she crouches she goes all the way down with her fingers touching the floor.

The vibration would represent Ellie's heartbeat, which starts as a faint rhythm that steadily raises it's tempo throughout the scene. Whenever a bandit shows up the tempo spikes.

When playing as Joel here in the actual game, the camera has a slight wobble and depth of field effect. We can apply this wobble and a rounder lens so that the player has to deal with Ellie's sense of anxiety and scrambling for control. Having the edges of the field of view be blurred would make the world seem like it's closing in on us, raising the sense of fear and diminishing the importance of background detail.

When the bandits come, Ellie's shots when aiming will actually be more accurate than usual, due to her heightened adrenaline.

Joel can get shot by the bandits if he is in the open and Ellie doesn't take them out fast enough. He would stumble and yell in pain, which would raise the intensity and urgency. But, they're just grazes, nothing that would make Joel's survival more unrealistic.
What it's like to be Joel carrying his daughter figure to safety.
What it's like to be Joel when carrying his daughter figure to safety. (Ellie)

What it's like to

be

Joel's daughter

being carried to safety. (Sarah)